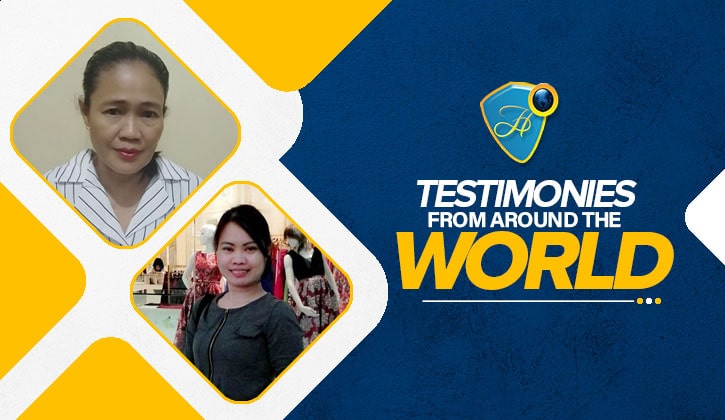 The laudable impact of the Healing Streams Live Healing Services is one that will be remembered for ages to come. The many lives that were transformed and the sick that received healing are a memorial to the power of God that swept across the nations of the world. Even after the program, more testimonies keep pouring in.

Thelma from the Philippines: "I struggled with shoulder pain and my hands were hurting, I could hardly do basic tasks. During the Healing Streams Live Healing Services, I noticed that the pain disappeared and my health was restored to normal. Praise God!"

Nanett Osicos from United Arab Emirates: "In 2017, a cancerous growth was found on my right ovary, I underwent an operation but I couldn't stop the fear that gripped my heart. I had several chemotherapy sessions to combat the condition. I was declared cancer-free in 2018, but somehow, I felt sick again in 2019, and some tests uncovered that the cancer was back. I was devastated and I cried a lot. I knew I've got to seek the face of God. Later on, I got to know about the Healing Streams Live Healing Services through my Church. When I got the email for registration, I was too excited knowing my miracle was on the way. From the first day of the program, I started acting on the instructions given by the ministers. I remember Rev. Ray Okocha said to start by doing a little exercise. I did so the next morning and while at it, I kept saying "I am alive". On the second day of the broadcast, as I prayerfully prepared, my faith was stirred for the miraculous. On the 3rd day, as the esteemed Pastor Deola Phillips mentioned my name and Rev. Tom prayed for me, strength rushed into my body. I got up, and I jumped excitedly! I felt the power of God move in my body. Now, I'm healed! My skin became normal and the paleness was gone. Glory to God forever! Thank you, Jesus."

Visit, www.healingstreams.tv to be a part of the new episodes on the Healing Streams Online TV, showing every Saturday & Sunday @ 4pm (GMT+1).