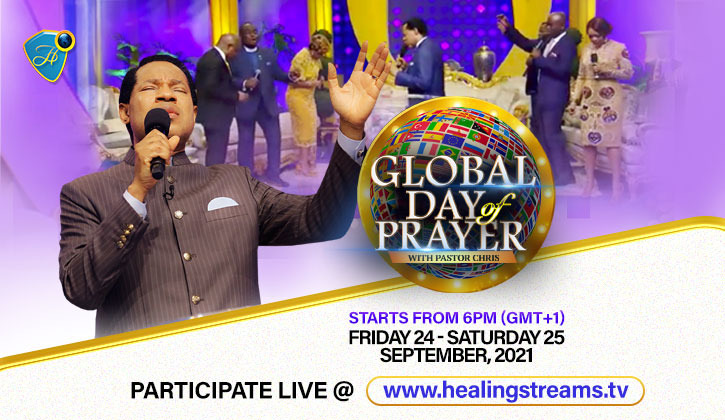 The September 2021 edition of the Global Day of Prayer with Pastor Chris commences from 6 pm GMT+1 on Friday, September 24 to Saturday, September 25, 2021. The special online prayer program will be beamed live to a global audience on the Healing Streams TV platform at www.healingstreams.tv, the Healing School mobile app, and on all Loveworld Networks.

Many from all walks of life, denominations, and people of diverse colors and languages participate in this epoch-making event, making it the largest prayer program in the world. It's always an extraordinary time of heartfelt prayer, worship, and inspiration for the nations of the world, the Church, leaders, and God's saints. Various ministers in the Loveworld Nation and several others from partnering ministries take turns to lead in prayer sessions in this 24-hour prayer chain. It's also a time of great insight and divine revelation and exhortations by Pastor Chris as well as glorious times of worship in songs led by the sensational Loveworld Singers.

Through this prayer program, God's people around the world will make power available for the furtherance and increased influence of the Gospel in these last days.

Sharing her expectations for the program, Jasmin Domacasse from the Netherlands says: "It is going to be a time where our prayer will go up to the Lord as a smelling savor. As we pray, we are exercising our spiritual muscles and God will be showing us visions. I'm ready to make tremendous changes through the Global Day of Prayer with Pastor Chris".

Indeed, the Global Day of Prayer with Pastor Chris is orchestrated by God's Spirit to bless lives across the globe. This power-packed experience with the Lord in place of prayer promises to be more impactful as the glory of the latter house always surpasses that of the former. Spread the news; invite your friends, family, neighbors, colleagues, and associates. Clear your schedule and be ready to join God's people all over the world to reorder the course of many lives and nations of the world.

You can create a virtual center to host all your invitees at www.healingstreams.tv/virtual. You can also sponsor the live broadcast @ www.healingstreams.tv/partner

Get ready to make a global impact through prayer!