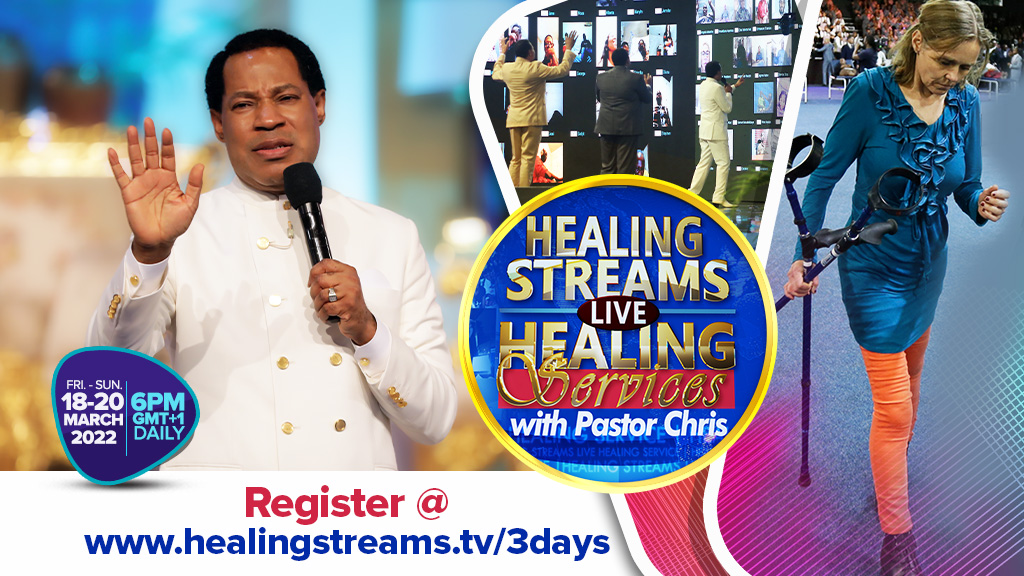 The count-up is on! In a few weeks, there's a big event that will show the world that Jesus is alive; He's still doing good, healing the sick and the oppressed, and the good news of divine life in Christ will be made manifest to billions across the globe.

From Friday to Sunday, 18-20 March 2022, the Healing Streams Live Healing Services with Pastor Chris will take the world by storm, and the peoples and nations of the earth will witness an outpouring of God's healing power. It will be three days of an unending flow of grace and mercy. The year 2021 saw three editions of this special program, each one bigger and more impactful than the last, as more and more people came in their billions to experience inarguable proof of the Lordship of Jesus Christ.2022 is the Year of the Gathering Clouds and the Healing Streams Live Healing Services will be a downpour of miracles as clouds of healing power empty themselves upon the earth. As the moment approaches, here are a few things you should do to prepare. Pray: From now, spend time daily to intercede fervently for the mighty move of God throughout the earth at this program. Pick your prayer slot now at www.healingstreams.tv/prayer .

Publicize: Spread the fame of Jesus all over the earth; tell someone you know about the Healing Streams Live Healing Services. As you do, help them register for the program at www.healingstreams.tv/3days .

Prepare Places: Set up virtual healing centers, where others can connect and receive the Gospel that will bring them life and healing. Create virtual healing centers at www.healingstreams.tv/virtual , and share your unique virtual center link with your contacts and invitees. Partner: Let your finances count toward the spread of the Gospel; there is no worthier cause to invest in now besides the Live Healing Services. Kindly go to www.healingstreams.tv/partner to begin. For inquiries and further updates, please follow the Healing School SuperUser on KingsChat (@hschool), or send an email to [email protected] .