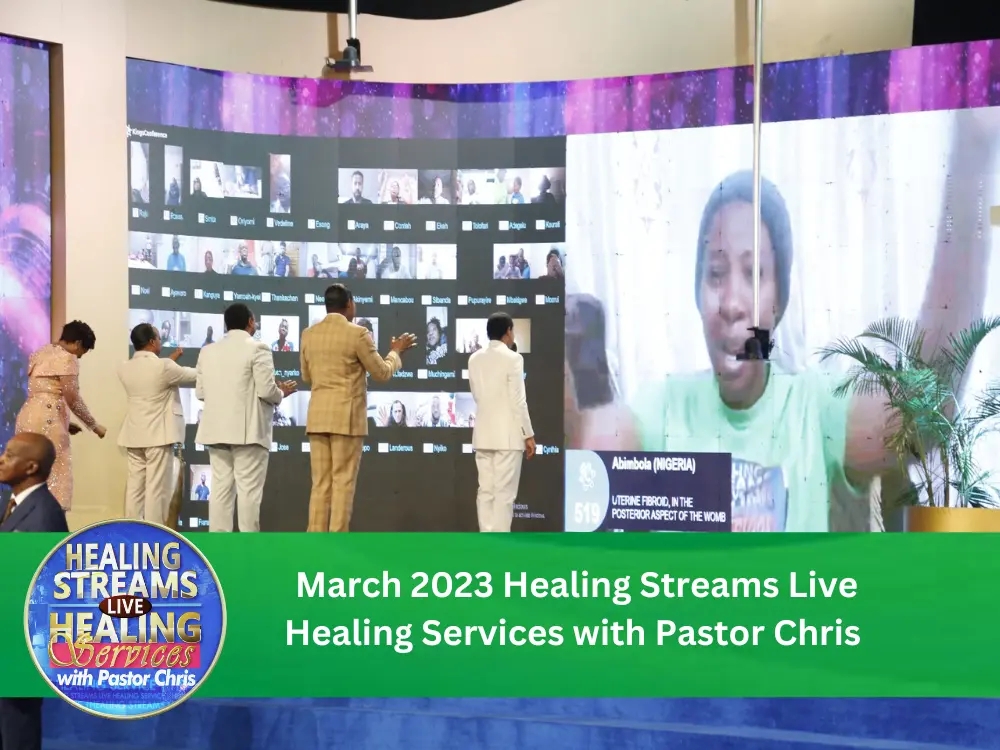 It's impossible to get over the aura and excitement ignited during a Live Healing Service with Pastor Chris. Still basking in the supernatural experience and divine insights received on Day 1 of the March 2023 Healing Streams Live Healing Services and here comes a second service. This time around God's spectacular love and compassion encompassed the atmosphere.
The Service kicked off with the Loveworld Singers leading in harmonious praises. Right after, the Healing School Director, Pastor Deola Phillips warmly welcomed participants from around the world and proceeded to lead a session of prayers.
One of the Scriptures she shared as she prayed was culled from 1 John 3:8. She emphasized the life of Christ, 'For this purpose the Son of God was manifested, that he might destroy the works of the devil.' She described the work of God as concerning divine health, "The work of God is your miracle today, the work of God is your testimony today, and the work of God is your healing today. There's restoration for you today!"
She continued by encouraging participants expecting a miracle, saying, "prepare for your testimony by documenting the condition you are in now and get ready to celebrate. Prayers have gone forth for you!"
The service unfolded to a special talk show segment with Pastor Deola Phillips and Rev. Tom Amenkhienan, discussing the impact and outpour of testimonies during the first day.
Like many, they were in awe of the teaching by the man of God and the astounding miracles in the lives of countless all over the world.
Janet Polar is one remarkable recipient of the healing power of God on Day 1 of the Live Healing Service with Pastor Chris. This woman suffered from heart disease and paralysis which left her bedridden and incontinent for 2 years. While participating in a healing center, she was revived. Now she can walk, run and move around freely.
The Lord said we would witness extraordinary miracles and so has it been. Momodu Mohammed had lived with mental depression and drug addiction for five years. This resulted in uncoordinated speech and mental instability.
For the first time in 5 years, he sat still for 4 hours; participating in the Live Healing Services without agitation or violence. Momodu testified of feeling an abnormal 'thing' leave him through his legs during the service.
The peak of this segment was these words from Rev. Tom, "Healing is God's will for you. It's God's purpose for you. This is His will, get ready today. Your testimony is next and nothing can stop you". The service advanced into a session of prayers, led by Rev. Ray Okocha. He led in special prayers for the nations of the world; decreeing the Lordship and dominion of Christ in every nation. This was a precious sight to behold as participation from every nation has been recorded, which means every nation was prayed for. Glory to God! Then came moments of jubilation as live testifiers were on set with Evang. Dr Eddy Owase to share their divine encounters as a result of participating in earlier editions of the Live Healing Services with Pastor Chris.
Shalin was the first live testifier for the day, a young and vibrant teenager who was oppressed by demons for six years. This led to her collapsing frequently, attempting suicide on several occasions and being unconscious. Today, these things are history! Shalin was completely set free at the July 2022 Healing Streams Live Healing Services with Pastor Chris; when the man of God laid hands on her and the demons left forever. This testimony meant so much to her family as their lives were earlier destabilized owing to her unstable condition. Another family filled with gratitude for the Healing Streams Live Healing Services is that of Nicholas. Without any symptoms, Nicholas' baby became pale and motionless. She was dead. While her parents prayed intensely for a miracle, they remembered a prayer by Pastor Chris for children from a previous edition of Healing Streams. Nicholas played the audio right next to the baby's ear and instantly, the baby's eyes popped open. She received life!
Thrills and excitement saturated the atmosphere as every testimony displayed the wondrous love of the Lord Jesus Christ. What followed this segment was an enrapturing praise session led by the scintillating Loveworld Singers. While they sang, the congregation witnessed the arrival of the man of God.
In his teaching during the service, Pastor Chris enlightened participants across the world on a Christian's future in Christ. He said, "The Glory of God is integrated into you when you believe the Gospel."
Further dissecting this truth, he read several verses in the book of Romans. Which explained how Jesus gave His Glory to anyone who believes in him. And that, ''If any man be in Christ, he's a new creature.'' He has received a new life; this new life came with the righteousness of Christ, guiltless and acquitted.
Christ paid with his life so all who come to know him wouldn't have to suffer the judgement to come. 'Those who believe in Jesus will be bold on the day of judgement,' 1 John 4:17.
The exhortation came to its peak as Pastor Chris concluded with these words, "All people are beautiful when the right thing happens with them. When Christ comes into your life there's a beauty and there's a glory."
The pivot moment had come, Pastor Chris approached the sick in the studio. One could see the hunger and desire for a new diagnosis of divine health.
As the man of God laid hands, spoke to the evil spirits and in some cases blew on them; the devils of darkness fled. Many witnessed the lame walk, the bedridden jumping, the weak strengthened and so much more!
The healing power enveloped everywhere, as prophesied in the days leading up to the March Live Healing Services. The testimonies received are simply beyond what the mind can fathom.
Lucy in the United Kingdom had a stroke and diabetes for two years, she was confined to a walking aid. As Pastor Chris ministered, she received her healing and now walks without the aid.
Over in China, a 40-year-old was healed of hemiparesis due to cerebral haemorrhage. A woman paralyzed since 2020, who was also deaf in both ears testified of her healing. As a result, her brother gave his life to Christ and received the Holy Spirit as well.
The glory of God was evident. Expectations were surpassed, yet there's one more Live Healing Service to go for this edition. One cannot begin to imagine what the Lord has in store.
The Spirit of God has said, "It's going to be powerful, it's going to be extraordinary." It's time for the crème de la crème. Your testimony is very important, as it's an avenue to inspire others and beget more testimonies. Do share your testimony here: healingstreams.tv/testimonies God bless you!