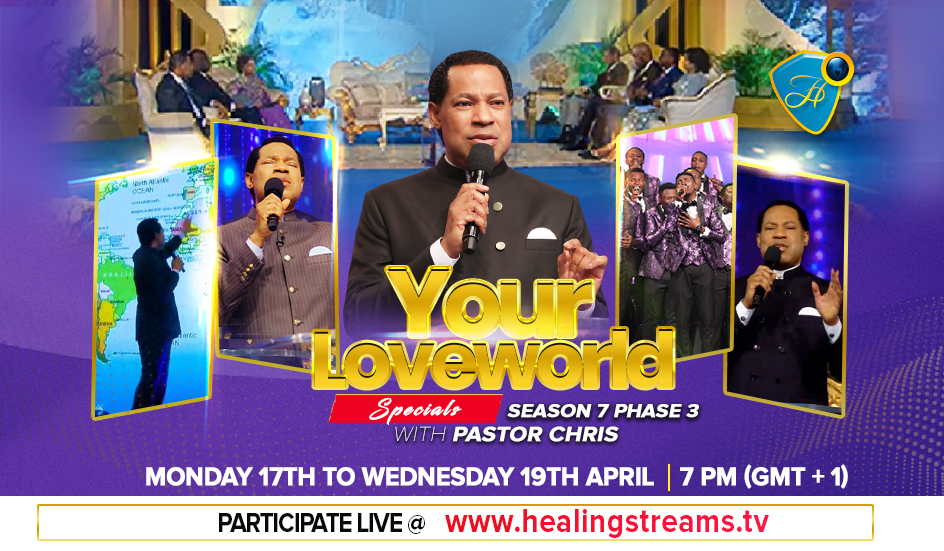 In the message of the year 2023, the Year of the Prolific Church, one of the three instructions the Holy Spirit guided the body of Christ to act on this year is to, "Prioritize the Word of God." The value of God's Word in a man's life cannot be overemphasized. With the church age coming to an end and the second coming of Christ closer than ever, God's Word is the sure bank of safety. Hence, every opportunity to hear the purified Word of God should be taken pre-eminently.
When Pastor Chris Oyakhilome teaches and brings Christians into the mind of God as written in scriptures, it's always a delight. The Your Loveworld Specials with Pastor Chris always avail such a time of discovery.
From Monday, April 17 to Wednesday, April 19, 2023 the man of God, Pastor Chris will be live at 7 p.m. (GMT+1) daily on Healing Streams TV and Healing School Mobile App for Your Loveworld Specials Season 7 Phase 3. You'll want to clear your schedule for this.
With all that's happening around the world at this time, these 3 days will offer teachings that will put the church steps ahead of the perpetrators of evil.
Gear yourself for a greater dimension of God's Word and prepare to receive accurate information on the current state of the world, according to God's calendar as Pastor Chris ministers during this timely telecast.
During the last phase, the man of God revealed hidden truths on the financial systems of the world. Pastor Chris stated also that, "Satan does not want you to live free and he will inspire those who want to put you in bondage, slavery and poverty."
He also encouraged those watching to pray for their countries from a place of love. "You've got to love your country and the city in which you live. When you pray for your country, look for something that you love. Think about something you can take pleasure in, in your country. It's that love for your country that makes you want to take it from the Devil. When you think like that, you win. Satan cannot conquer love. He cannot defeat love. Love is the greatest power in the world."
Get set to also receive deeper insights into the mysteries of the Kingdom of God as well as prophecies inspired by the Holy Ghost in this next phase.
Clear your schedule, and begin to build up great expectations. Don't keep this to yourself, share the thrilling news with everyone in your sphere of contact and implore them to join you for this life-changing programme via your unique Virtual Center.
Your Loveworld Specials Season 7 Phase 3: Monday, April 17 – Wednesday, April 19, 2023 at 7 p.m. (GMT+1) daily.