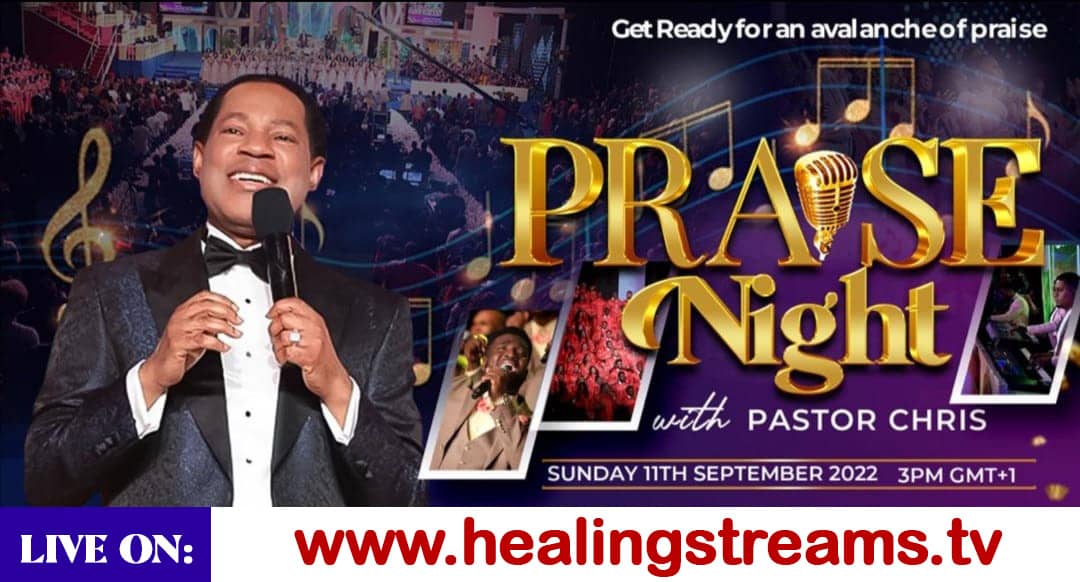 True praise and worship will bring you into a life of power, and a lot of things you prayed for and asked, you'd find you don't need to pray for them ~ Pastor Chris Oyakhilome.
Hurray! Another exciting episode of Praise Night with Pastor Chris is here! It is set to take the airwaves at 3 p.m. (GMT+1) this Sunday, September 11, 2022. The epochal service will be streamed live to a global audience on Healing Streams TV @ www.healingstreams.tv and on Loveworld networks.
Previous editions of Praise Night with Pastor Chris redefined meaningful worship and presented a beautiful opportunity to exalt the Lord in songs of the Spirit with saints across the globe. They have also been times of enlightenment on the various aspects of praise and praising God with understanding.
"For those who know the secret of thanksgiving, God moves into their situation. You find that God goes before you and takes down the mountains and the hills," Pastor Chris says, ministering in one of the previous editions of Praise Night.
Praise Night features Scripture readings, inspiring teachings, and glorious moments of effusive worship led by Loveworld Singers, all in an atmosphere of heartfelt gratitude to God with participants all over the world lifting holy hands and voices as they glorify the Lord.
This is yet another time to bask in the glory of God's presence. Get ready for an avalanche of new songs and deeper revelations, as we count up to this praise rendezvous. Start making plans to participate and invite your family and friends to be a part of it. Join us by 3 p.m. (GMT+1) @ www.healingstreams.tv or watch on Loveworld Networks.