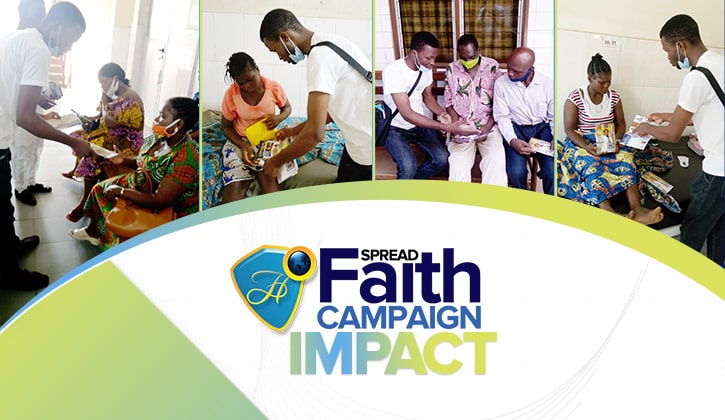 The Healing to the Nations Magazine is an excellent tool for personal spiritual development in God's Word, replete with inspiring content to inspire faith for the supernatural. Translated in several languages and covering different continents, its impact is far-reaching, to people of all demographics.

Thousands of leaders and ministers from all over the world have adopted the Magazine as an evangelistic material in fulfilling the mandate to take the healing power of God through the Gospel of Christ, into every man's world. Members of the Healing School Cyber Church from Benin Republic embarked on one-on-one evangelism to Best hospital in Cotonou, sharing excerpts from the Healing to the Nations Magazine with several patients and staff of the hospital. As the outreach went on, souls were stirred and touched by the words shared with them. There was a sincere yearning and palpable desire for the words, as people yielded to the power of God present during these times of fellowship.

Everyone was ministered to by the sheer power of the Holy Spirit and each went with a testimony. This remarkable outreach led to several giving their hearts to Christ, and others also received healing from health challenges that plagued them. A woman who was ministered to shares: "As the ministers spoke with power, I was touched in a special way and realized that I had to make the decision to give my heart to Christ. They prayed for me, and I also received my healing. Hallelujah!"

The team shared their heartfelt gratitude to the man of God, Pastor Chris Oyakhilome, for accepting God's calling and teaching God's Word through every ministry platform of the Loveworld Nation, carrying the divine presence of God and His healing power to the nations of the world.

You too can share the love of Christ with the people in your sphere of influence by signing up for the Spread Faith Campaign to distribute free copies of the Healing to the Nations Magazine to more people around the world, please visit www.enterthehealingschool.org/spreadfaith to start a virtual distribution.