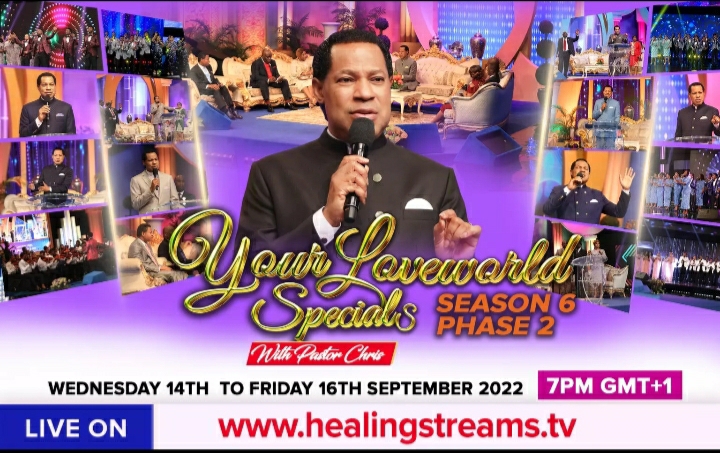 Gear up for another time of impact and blessings as Season 6 Phase 2 of Your Loveworld Specials with Pastor Chris holds from this Wednesday, September 14 to Friday, September 16, 2022.
This special edition will be broadcast live on www.healingstreams.tv, Healing School Mobile App, and Loveworld networks
Past episodes of Your Loveworld Specials have been a fountain of deep revelations from God's Word, with emphasis on examining global events in the light of prophecies from the Scriptures. This profound advent of knowledge has awakened the Church of Jesus Christ to its place of dominion and rulership in these last days.
The earliest phases revealed the debacle of the COVID-19 pandemic for what it was, a satanic conspiracy to subdue the nations through fear. Also, Pastor Chris has taught on key subjects like the 7 Reigns of the Prophetic Timeline, an expose on the ages of human history as seen in the book of Daniel. These teachings have opened the eyes of billions to the deception of the nations in these times and prepared the Church for Jesus' soon return.
Exhorting the global audience during the previous phase, Pastor Chris said, "Many listen to many voices before they listen to God and by then, they have gone through some deception. Deception can be costly; it could cost your life."
In this new phase, get ready for more revelation and higher dimensions of grace. These three days will be a time of glory and transformation. Join billions around the world to watch Your Loveworld Specials with Pastor Chris, Season 6 Phase 2, starting tomorrow at 7 p.m. (GMT+1). Follow the link above to participate.
No one should be left out. Spread the news and get everyone you know ready to receive special blessings.
For more news updates, subscribe to receive push notifications on this website.